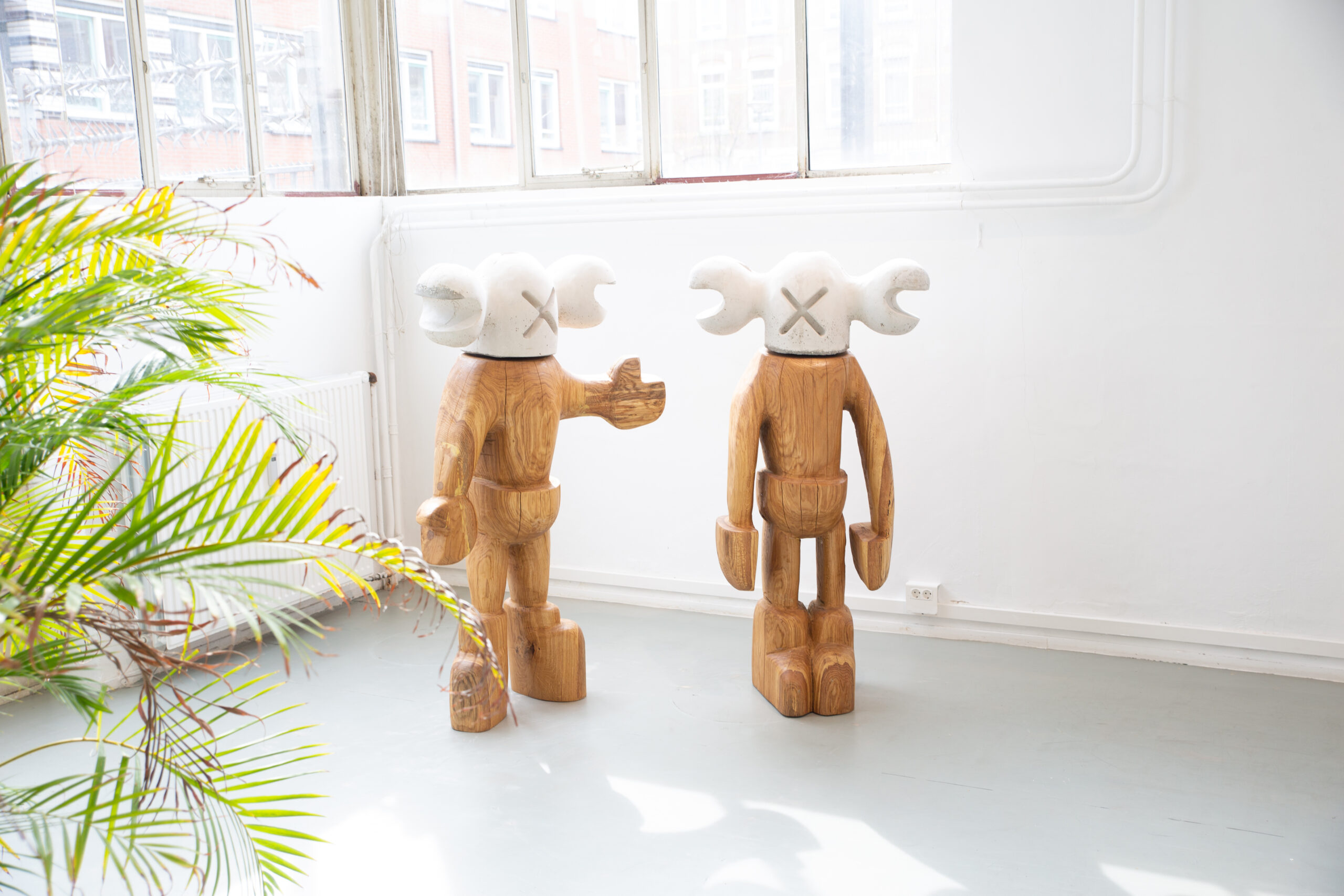 Pur Natuur
De beelden van Sander Buijk verwijzen naar een autonome wereld vol tegenstrijdigheden. De stripachtige figuren zijn stoer en fragiel, karikaturaal en kwetsbaar, emotioneel en gesloten. Zijn materiaal gebruik is al even onorthodox. Hij combineert gegoten beton met  diverse materialen zoals, brons, neon, glas en meer.
Zijn beeldtaal ligt dicht bij de animatiebeelden in strip of internet en hebben dezelfde verleidelijke simpele vormtaal maar door onverwachte toevoegingen krijgen de beelden een meer complexe identiteit. In hun autonome wereld zijn de meeste beelden gesloten en stil. Sander Buijk construeert, combineert en labelt de beelden zodanig dat er een dubbelzinnigheid ontstaat die ontroert en verwondert.
Hijzelf vertelt dat de aanleiding voor zijn werk de interactie tussen menselijke relaties in abstract, emotioneel of fysisch is. De hierin voorkomende controversen fascineren hem. Beelden die krachtig zijn in hun speelse eenvoud. Door zijn figuren een sterke tactiliteit te geven wil hij de kijker verleiden, raken en hen betrekken maar in materiaal en vorm houdt hij afstand.
Veel beelden bestaan in hun basisvormen uit combinaties van betonnen losse onderdelen. Deze geconstrueerde en samengestelde elementen krijgen door onverwachte toevoegingen een bijzondere twist. Aangezien het materiaal hierin een zeer belangrijke rol speelt, is het experimenteren met materiaal gebruik een belangrijk onderdeel van het ontwerp proces. Ook hier zoekt hij een ambivalentie op, die de beelden een extra laag moet geven. Wat hem interesseert in het tot stand komen van beeld is het zoeken naar een grens. Beeld welke aan de ene kant visueel goed communicerend is en aan een andere kant mijn eigenheid, die spontaniteit en ruwheid behoudt. Beeld wat niet te verhalend is, waardoor de kijker geprikkeld wordt tot interpreteren. Tegenstrijdigheid die schijnbaar bij elkaar hoort.
Pur Natuur
10 maart t/m 25 juni