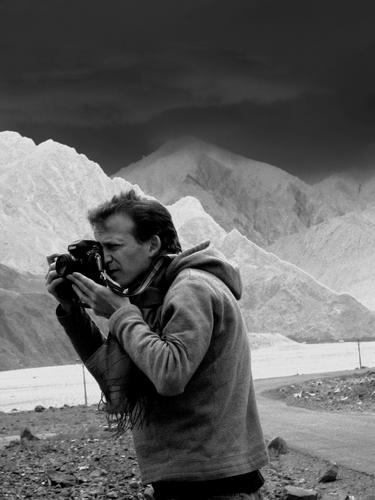 Vincent van de Wijngaard | Photo- & filmmaker
Vincent van de Wijngaard's work is characterized by a deft treatment of color and investigative style, giving rise to imagery of crisp detail and profound allure. Following an early interest in music and graphic design, he studied photography at The Royal Academy in The Hague. His projects have since taken him to more than seventy countries, fostering an appreciation and familiarity with diverse cultures that lends a unique international perspective to his work.
Van de Wijngaard's command of narrative and comfort working in alternately stark and elaborate locations has led to assignments for Vogue US, Vogue UK, Vogue Italia, Interview US, Harpers Bazaar US, Financial Times, Zeit Magazin and many others.
Van de Wijngaard's commercial clients include: Louis Vuitton, Cartier and Dior.
His photographs and films have been collected and exhibited by museums and galleries worldwide. Van de Wijngaard's feature length film, There is No Blue without Yellow and Orange, which charted the living and working environments of the painter, Vincent van Gogh, premiered at the National Art Center in Tokyo in 2010.
His book 'Morocco', published by Louis Vuitton, a selection of street photographs taken during many trips to Morocco.
'Ghosts don't walk in Straight Lines', a multi faceted exhibition with his partner in life Saskia de Brauw has been exhibited in New York, Paris, London and in Amsterdam at FOAM.
Het interview met Vincent van de Wijngaard is hier binnenkort te lezen